Our deep-freezing tunnels  work at temperatures as low as -70ºC
The deep-freezing plants are based on a direct expansion refrigeration system with semi-hermetic compressors, with a secondary fluid exchange for distribution in the chambers or dynamic tunnels. The plants can be air condensed with V-shaped condensers or water condensed.
The distribution of the plant can be compact with an integrated electrical panel and  condenser or they can be remotely installed.
All units are designed for outdoor operation. The working power range is from 15 kW to 150 kW of cooling with an evaporating temperature down to -85 °C.
Static freezing tunnels: the product remains static during the freezing process.
Dynamic freezing tunnels: the product moves by means of a belt through the installation.
Features of the deep-freezing unit 
Minimum gas load
Natural refrigerant
Low GWP – ODP=0
Minimal maintenance
Leak detector and safety systems for the refrigeration plant
Control and management of room and chamber temperatures
Electronic control
First compressor control with frequency converter
EC Capacitor
High energy efficiency
GasN2 integrated control system
Exclusive platform for each Client
Remote control of operation
Optional predictive control
Optional heat recovery system
Optional built-in pumping system
Optional acoustic encapsulation
Benefits of the production process 
Reduction of freezing time
Benefits for the frozen product 
Product organoleptic properties are maintained
No tissue rupture
No weight loss
No change in product color
At GasN2 we always analyze the needs of our customers and adapt our facilities to these requirements.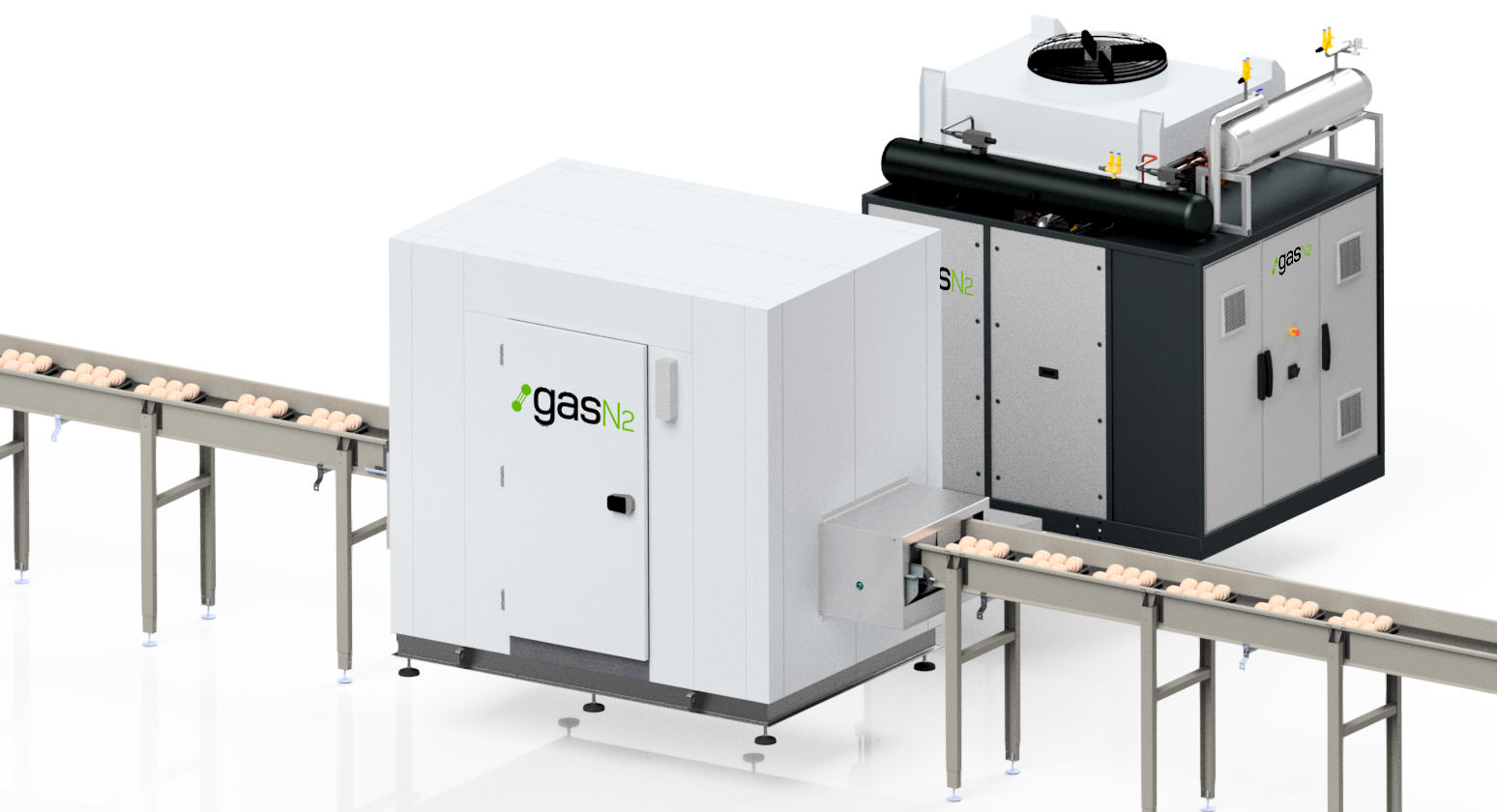 Cooling/Freezing capacity adapted to the customer's needs.

Integration of frequency inverters.

Less polluting refrigerant gases.

Remote control of equipment operation.

Significant savings in electricity.

Low freezing temperatures.
Reduced freezing cycles.

Faster and more efficient production.

Modulation of consumption according to production demand.

Tax-free refrigerant gases.

Reduction of the frozen product cost per kilo.

Remote SAT.